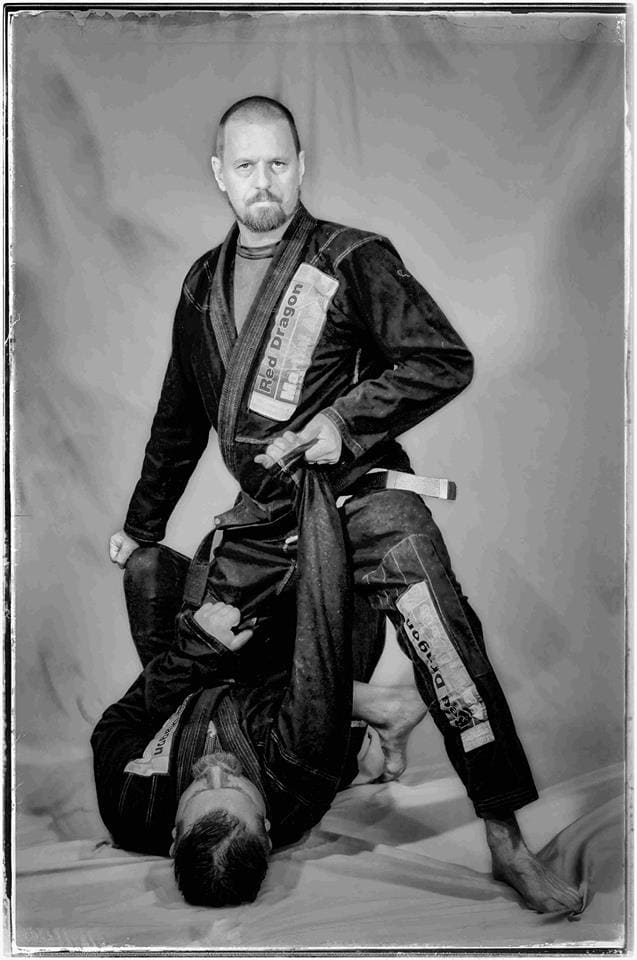 Brett Fenton
Sifu's interest in martial arts started as a skinny little kid in the 70's when he was bullied almost everyday at school. He was enthralled by the skills of Bruce Lee and his cousin Ken (TKD Black Belt) Memories of playing Monkey in the back yard with a black and gold staff show he was destined to do Kung Fu one day. From that point on his dreams were to join the Army and to train in Martial Arts. Due to living in a small country town, Sifu was unable to train in Kung Fu and had to choose the other disciplines of Taekwondo, Boxing, Kickboxing and Muay Thai. Eventually in the late 80's after joining the Australian Infantry, he started training in the styles of Wing Chun, Jow Ga Kung Fu, Lion Dance, Dragon Dance and Wu Style Tai Chi under Grandmaster Tom Lo (Blitz Magazine Instructors Hall of Fame Winner).
In 1994 he opened his first branch for Grandmaster Lo and achieved Black Belts in Wing Chun, Jow Ga and Tai Chi.
In 1997 the current school was opened and still has some of the original students who are now senior instructors.
In 1998 and 1999 the school won the Quest Business Achievers Award for Fitness & Sport.
In 2000 he was bestowed the honour of becoming a Sifu by Grandmaster Lo.
In 2006 Sifu was awarded once again for his business achievements by winning the Quest Business Achiever Award.
Over the past 15 years Sifu has began training with Jow Ga expert Sifu Randy Sullivan Bennett, BJJ expert John B Will, American Top Team Head Coach Master Ricardo Liborio, Australian Martial Arts Acting Legend Richard Norton, World Kickboxing Legend Benny "The Jet" Urquidez, Edged weapons expert Ray Floro, Extreme Martial Arts World Champion Mike Chat, Hyper Martial Arts creator Roland Osbourne and world renowned Lion Dance Sifu H.P. Siow. as well as continuing to train under Grandmaster Lo.
Sifu travels internationally regularly to train and improve the standard of Martial Arts taught at Red Dragon.
He was awarded the 2010 Australian Martial Arts Professional of the Year for his efforts and contributions to the Martial Arts in Australia. Later in 2010, Red Dragon was awarded Australian Top Martial Arts School by EFC in Washington DC.
Achievements
7th Degree Black Belt - Wing Chun (Sigung Tom Lo)
3rd Degree Black Sash - Jow Ga Kung Fu (Sigung Tom Lo)
Black Belt - Brazilian Jiu Jitsu (John B Will)
Black Belt - Extreme Martial Arts (Mike Chat)
Instructor - Wu Style Tai Chi (Sigung Tom Lo)
Certified Instructor - Floro Fighting Systems/ Kali (Ray Floro)
Certified Instructor - Lion Dance (Sigung Lo & Sifu Sow)
Certified Instructor - MMA (John B Will & American Top Team)
Certified Instructor - Cage Fitness (Matt Hughes)
Certified Instructor Level 3 - Hyper Pro Martial Arts (Hyper)
Certified Instructor - TRX Suspension Systems (Crank It)
Certificate 3 - Fitness (FIT)
Certificate 4 - Fitness (FIT)
Level 2 Judge/Referee - ISKA
Level 3 Judge/Referee - WAKO
Winner Quest Business Achiever of the Year - 2006
Winner MAIA Professional of the Year - 2010
Winner EFC Top Martial Arts School Award - 2010
Winner ISKA Top 5 rated Club - 2010
Winner EFC Most Inspiring Instructor Award - 2012
Winner EFC Supreme Grandmaster Black belt Award - 2012
Winner EFC Instructor of the Year - 2013
Winner EFC Platinum Leadership Award - 2013
Winner ISKA School of the Year - 2013
Winner ISKA School of the Year - 2014
Winner Best Small Team ISKA World Cup - 2014
Winner EFC Award for Outstanding Professionalism & Commitment to the Martial Arts Industry - 2015
Winner EFC Award for Outstanding Professionalism & Commitment to the Martial Arts Industry - 2016
Winner EFC Award for Outstanding Professionalism & Commitment to the Martial Arts Industry - 2017